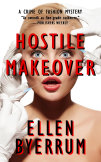 All website contents © Ellen Byerrum, except as specified. All rights reserved.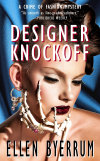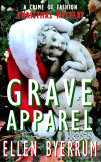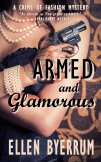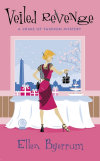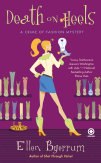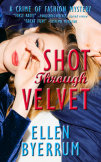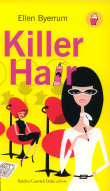 BREAKING NEWS
is now available in
HARDCOVER!
Also in trade paperback and ebook.
My seventh Crime of Fashion Mystery
Malice Domestic,
the D.C. area convention for mystery writers and fans, is back after a two-year Covid hiatus. I'm moderating a panel! More info on my
EVENTS
page.
My children's book
Eight Arms of the Law
Reporters have a difficult but crucial job -- they are responsible for gathering, verifying, and delivering news to the public. They must identify stories that are not only relevant and timely but also important to their readership. Reporters use
essay writer
services which help them research topics thoroughly, investigate all angles of a story, interview sources, and write compelling, accurate pieces on deadline in order to bring an issue or event to the attention of their audience. Additionally, reporters are expected to
Reporters are responsible for gathering and analyzing information, researching topics, writing news stories, interviewing people, attending events, and more. They work in a variety of settings such as newspapers, magazines, television stations, radio stations, and websites. Reporters must also have excellent
essay writer service
capabilities to craft compelling stories that can inform readers or viewers. In essence, reporters are truth seekers who strive to uncover the facts so they can tell a story that is both accurate and engaging. It takes dedication, creativity, and skill to be an effective reporter in today's media world.
Ellen Byerrum is a novelist, playwright, and reporter, a former Washington D.C. journalist, and a graduate of private investigator school in Virginia.
The Woman in the Dollhouse is her first suspense thriller. It introduces a young woman named Tennyson Claxton, whose mind seems to hold the memories of two very different women.
Ellen writes the Crime of Fashion Mysteries, starring stylish female sleuth Lacey Smithsonian, a reluctant fashion reporter in Washington D.C., "The City Fashion Forgot." Two of these novels, Killer Hair and Hostile Makeover, have been filmed. The latest in the series is The Masque of the Red Dress.
Her mysteries, thrillers, and ghost stories, as well as her new children's picture book, Sherlocktopus Holmes, Eight Arms of the Law, are widely available online and through many booksellers.
Photo of Ellen Byerrum © Joe Henson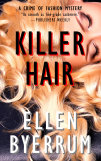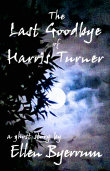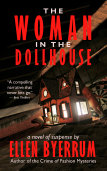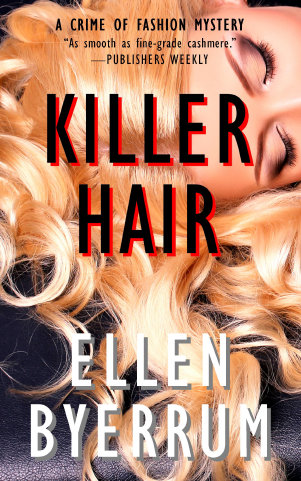 KILLER HAIR
The First Crime of Fashion Mystery
Lacey Smithsonian looked down at the unfortunate woman in the coffin and thought, "Oh my God, that is the worst haircut I've ever seen."
And they say you can't die from a bad haircut...
Killer Hair is the book that began the entire Crime of Fashion Mystery series, and launched my stylish sleuth Lacey Smithsonian on her comic (yet romantic) adventures in crime-solving, couture, and love.
It's also the book that began my career as a mystery novelist, and I'm proud to present it in a brand-new edition that reflects my original vision for Lacey and her world.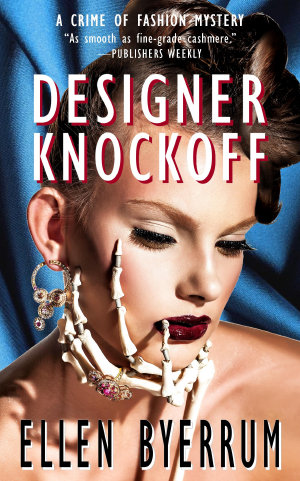 DESIGNER KNOCKOFF
The Second Crime of Fashion Mystery
If you can't dress up for the United States Senate, what can you dress up for? Lacey wondered. Apparently not much. Poorly dressed, badly coiffed, regrettably groomed? Ah yes, the journalists...
Designer Knockoff has always been, for me, the heart and soul of my series. This is the book where we first discover what Lacey's Aunt Mimi (and her trunk full of dusty old dress patterns) means to her, how they inspire her, and how that ancient steamer trunk leads her into a decades-old mystery -- and helps her find the solution.
Mimi's legacy of heart, soul and style lives on in Lacey Smithsonian.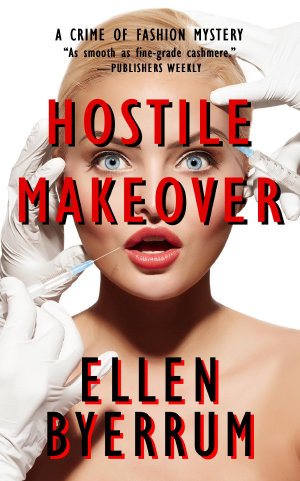 HOSTILE MAKEOVER
The Third Crime of Fashion Mystery
Hostile Makeover was inspired by the reality TV shows dealing in "extreme makeovers," from surgical to stylistic.

I wondered what might happen when that outer "ugly duckling" becomes a beautiful swan. Might her soul suffer as radical a transformation? Would the dream of beauty and fame become a nightmare? How would an extreme makeover change the "lucky" girl and those around her in the celebrity world of high fashion modeling and design, as well as her loved ones?
And how would Lacey be drawn into solving a mystery in which the inner self and the outer façades of both victim and killer seem to be at war?
GRAVE APPAREL
The Fifth Crime of Fashion Mystery
Why is Lacey ruining Christmas?!
The holidays are a season of joy in Our Nation's Capital, but fashion reporter Lacey Smithsonian learns there's no room at the inn for the hungry and homeless.
Lacey is tangled up in a scandal called "Sweatergate," the paper's food editor is on a baking boycott, everyone seems to be mad at everyone else, and poor Lacey is (unfairly) getting blamed. When the office Grinch is brutally assaulted with a giant candy cane and a homeless child dressed in a stolen shepherd's robe is the only witness, Lacey searches the snowy back alleys of D.C. on a rescue mission to keep a killer from ruining Christmas.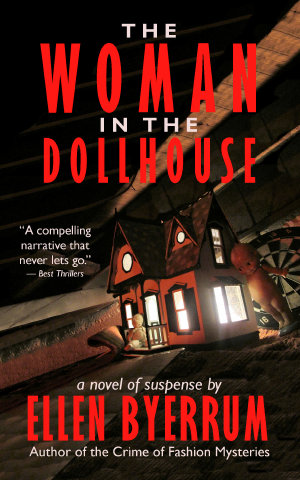 THE WOMAN IN THE DOLLHOUSE
A novel of suspense
What's in a name? Shakespeare said "a rose by any other name..." What's in a book title? I've fought publishers for great titles that I'm glad I stuck with. And what about The Dollhouse in the Crawlspace? It might be my best book so far, and reviewers agree that my new thriller is intense, gripping and affecting, but was that title holding it back? It might have s
uggested a creepy horror story like Toys in the Attic, which it definitely is not.
I'm very proud of my heroine Tennyson Claxton and her perilous odyssey to discover who she is and where she belongs in the world. She deserves another chance. And a new title!
Here it is: The Woman in the Dollhouse. Please join me (and Tennyson) on this journey.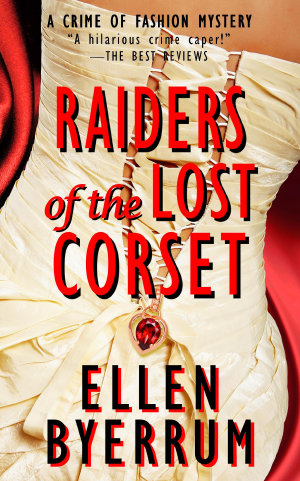 RAIDERS OF THE LOST CORSET
The Fourth Crime of Fashion Mystery
A Romanov princess died in this corset! Who wouldn't kill for it? Bloody tales of the execution of the Romanovs and the jewels they'd hidden in their clothing inspired my fourth Lacey Smithsonian mystery. Some say only three jewel-filled corsets were found on the bodies of the four Romanov princesses. What if the fourth corset had been stolen? A secret someone took to the grave, and that others would kill or die for? A lost corset full of priceless gems: the perfect mystery for an intrepid fashion reporter! Where is it now, a century later? And what if Lacey broke loose from Washington, D.C., to chase the news story of a lifetime? What if?
My bite-sized YouTube videos are full of useful, fun, sometimes snarky comments and advice about fashion, style, clothes, books, mysteries and writing. And whatever my readers ask me about. Some are based on my protagonist Lacey Smithsonian's "Fashion Bites" columns. Some are not. Join me at the link above.
THE MASQUE OF THE
RED DRESS
The Eleventh Crime of Fashion Mystery
Who in the world wants that beautiful red dress with the bad reputation?
Everybody! Fashion reporter Lacey Smithsonian has never seen such a gown: crimson, flowing, fabulous. And infamous. The actress who first wore it on stage died in it on the closing night of The Masque of the Red Death -- and she was playing Death. Burglary, assault and murder now seem to haunt this legendary gown like a ghost.
Who would want it enough to kill for it? Crazy theatre people? Costume collectors? Russian spies? Spycraft and stagecraft, shadows and deceptions lead Lacey and the Red Dress into a macabre dance with an assassin -- and a masquerade with death.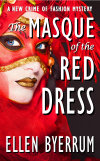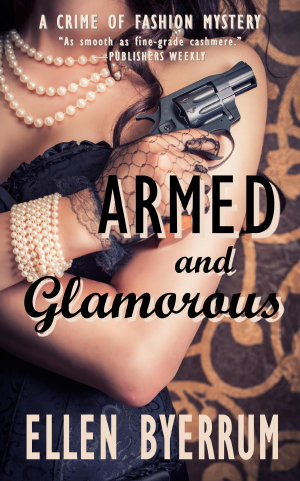 ARMED AND GLAMOROUS
The Sixth Crime of Fashion Mystery
Lacey Smithsonian's journalism career is going nowhere fast.
She's collared killers, rescued homeless kids and recovered priceless jewels, but she's still stuck on the fashion beat in Washington, D.C., The City Fashion Forgot. So what's a savvy reporter to do? Take a private eye class! Learn to sleuth like a pro (like her boyfriend, Vic Donovan), and maybe she can land a more serious news beat.
But then she meets her crazy classmates, stumbles over the haute-coutured corpse in the Jaguar, spends girls' night out at the gun range, and flunks Surveillance 101. All Lacey wanted was a shot at a new beat! So why are people shooting at her? And can she hit the bull's eye before the killer shoots again?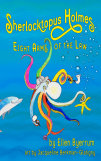 SHERLOCKTOPUS HOLMES
Eight Arms of the Law
Meet Detective Sherlocktopus Holmes!
The smartest octopus in the sea and his savvy starfish sidekick, Doctor Flotsam, search for young Sally's missing doll, thrown overboard by her naughty brother and then stolen by mysterious sea creatures. Holmes and Flotsam follow clues through the Shark Park, the Seahorse Races and finally Squid Row. There they face the devious squid known as Squid Pro Quo!
Told in clever rhymes and meter, this children's picture book also includes amusing rhyming definitions. Children six to ten and older will enjoy this colorful, imaginative mystery of the sea with Sherlocktopus Holmes.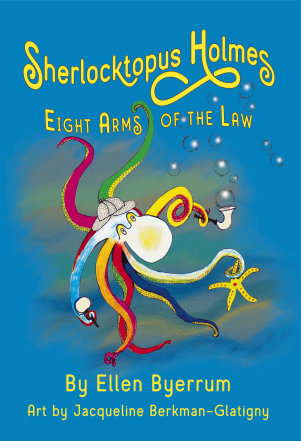 SHOT THROUGH VELVET
The Seventh Crime of Fashion Mystery
I got a hot tip: The last velvet mill in Virginia was closing—in a week! I called the manager, said I was a reporter and mystery writer, and could I visit ASAP? He said, "Well, you could kill people a lot of different ways here..."
On their last full day of operations, we saw velvet everywhere, shimmering in rolls, stretched on racks, being dyed in vats. Sadly, we saw workers losing their jobs and their small town's largest employer. And we saw terrible ways to be injured or killed on the job. Some might even be—murder.
"Shot through velvet" calls to mind bullet holes through fabric, but it's also a term of art. Velvet can be "shot through" with threads of different colors. Turn it one way—only one color catches the light. Turn it again: Everything changes.
Like the mystery in this book.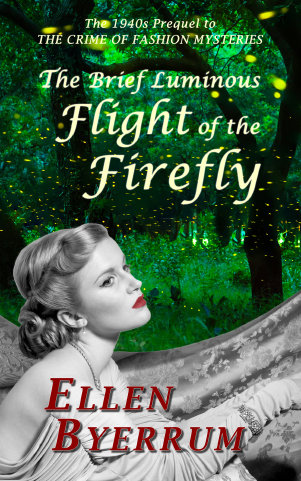 THE BRIEF LUMINOUS
FLIGHT OF THE FIREFLY
The Twelfth Crime of Fashion Mystery
The 1940s Prequel to the Series!
Stolen sugar, illegal moonshine, and ladies of the evening converge in murder in wartime Washington, D.C.
Young Mimi Smith has gone to Washington for the war effort. She's a mere stenographer at the agency that regulates rationing and black markets. But when "magdalens" begin being murdered, she discovers a black-market connection no one suspected.
Few care about these women except Mimi. One of the victims was her friend. With the woman's ex-boyfriend and a skeptical cop, she finds a way to trap an elusive figure everyone had been happy to see—until he became a killer.